Elvis Presley on German 78 rpm records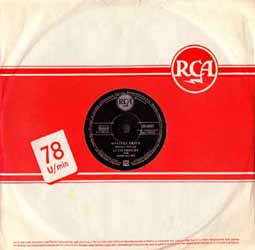 German RCA 78 rpm record sleeve 1956-58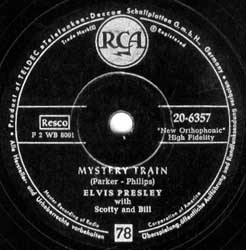 20-6357 Mystery train / I forgot to remember to forget was the first RCA release from the
'Teldec' pressing plant in Hamburg, Germany which covered the central European market
including Sweden. The copyright notice was filed on July 3, 1956 which oddly indicates
that the 78 rpm version was pressed 3 months after the 45 rpm release. Originally
released by SUN records as SUN 223 in August 1955 and re-released by RCA in
November. Both these releases were only sold on the US market, however.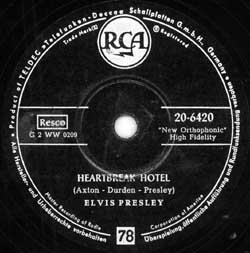 20-6420 Heartbreak hotel / I was the one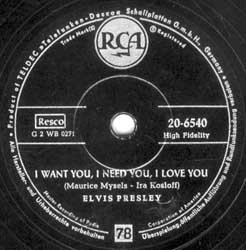 20-6540 I want you, I need you, I love you / My baby left me has a copyright notice
dated July 26, 1956 or a mere three weeks after 'Mystery train'. In the US, this was
Elvis' follow-up to his first smash-hit 'Heartbreak hotel', but the latter would
not be considered for a German 78 rpm release for another three weeks.
20-6604 Hound dog / Don't be cruel was the first German Elvis record that hit the
manufacturing presses just about the same time as it did in the US. And a hot wax
it was indeed. Soon both sides of the single would compete for the number one
spot on the record charts all over the world. Having been recorded on July 2,
it is almost amazing to note that the Teldec copyright notice was filed as
early as August 4, this time both for 45 and 78 rpm records at once.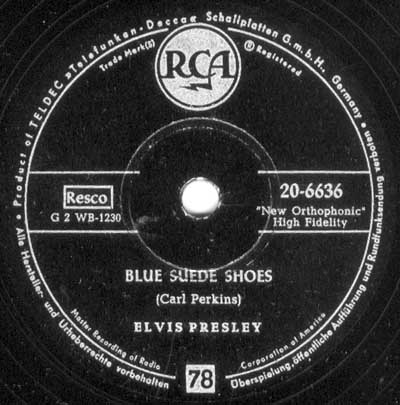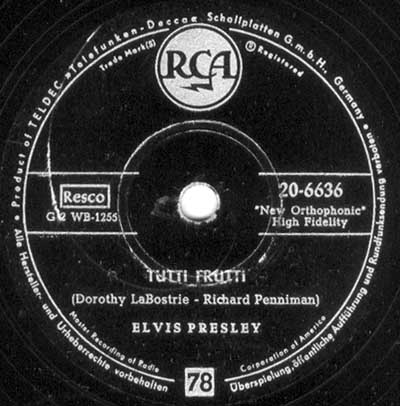 20-6636 Blue suede shoes / Tutti frutti (1st and 2nd press depicted)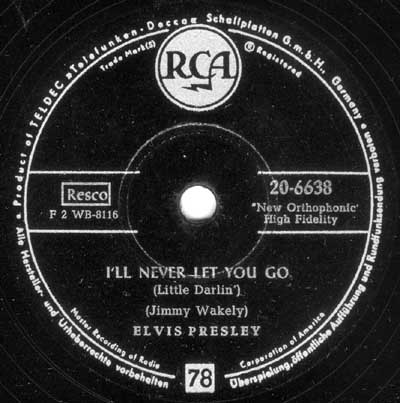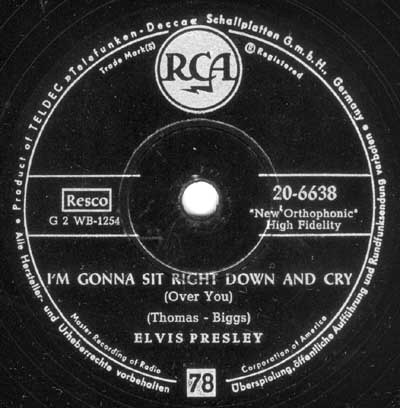 20-6638 I'll never let you go (little darlin') / I'm gonna sit right down and cry (over you)
20-6639 I love you because / Tryin' to get to you
20-6640 Blue moon / Just because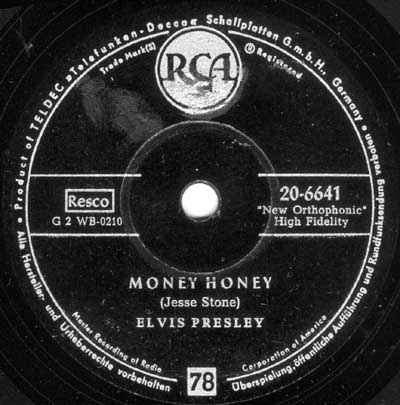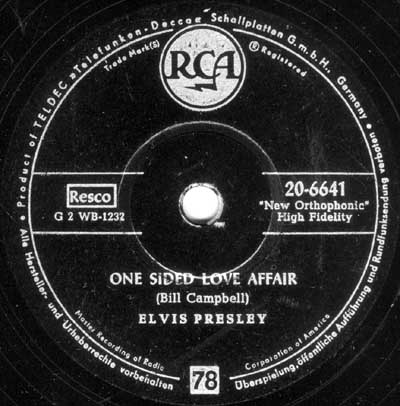 20-6641 Money honey / One sided love affair
20-6643 Love me tender / Any way you want me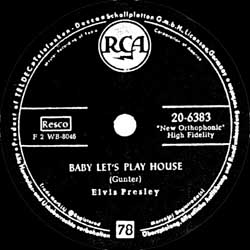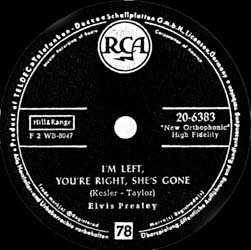 20-6383 Baby let's play house / I'm left, you're right, she's gone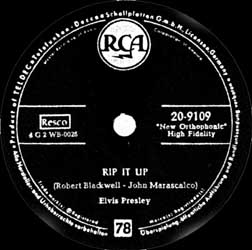 20-9109 Love me / Rip it up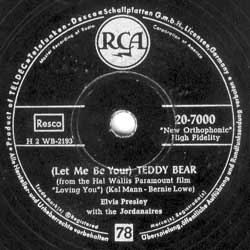 20-7000 Loving you / Teddy bear
This record hit the presses at a time when Elvis hade become a household name
globally. The copyright notice says July 27 1957, or little more than a year after the
first release. It can be noted that 78 rpm records were not selling well any longer.
The 45's had taken over the market almost totally by now. Only three more of
Elvis' singles would be pressed on this format, the last one being 'Jailhouse
rock' which went to the German pressing plant in late October.
20-9129 Too much / Teddy bear
This ultra rare coupling was pressed in Germany, apparently mainly for export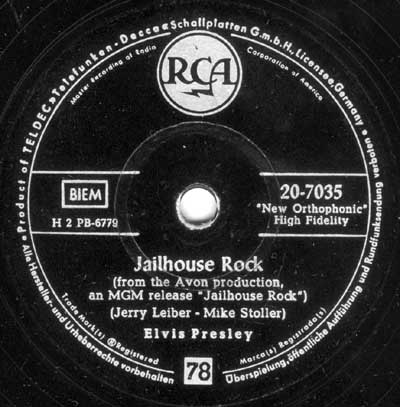 20-7035 Jailhouse rock / Treat me nice
This was the last German 78 rpm record with Elvis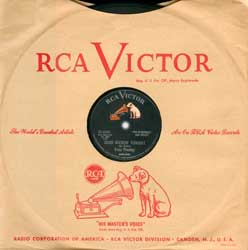 US RCA Victor 78 rpm record sleeve 1955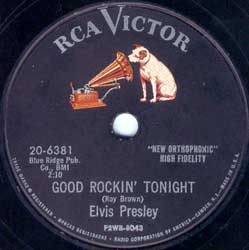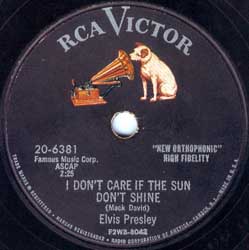 20-6381 Good rockin' tonight / I don't care if the sun don't shine. Released late in 1955,
this was one of the five SUN singles that RCA Victor re-released directly upon having purchased Elvis'
contract from SUN records on November 21. These were the first ever RCA releases with Elvis Presley.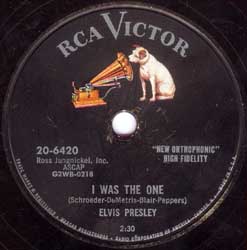 20-6420 Heartbreak hotel / I was the one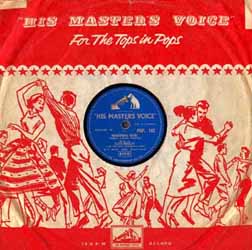 British HMV 78 rpm record sleeve 1956-57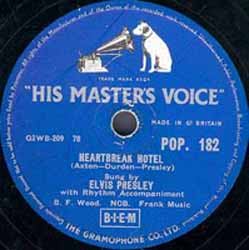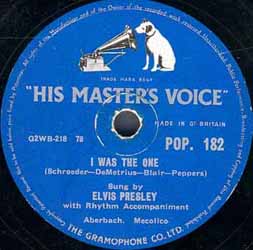 HMV POP 182 Heartbreak hotel / I was the one. Released in March 1956, this was the
first Elvis record in the UK and it would be remain alone until June. One year later
RCA began to press Elvis' singles on their own lable. All in all, a total of 11 Elvis
singles were released on HMV, each of them also available on 45 rpm records.
All of Elvis' HMV releases are highly sought-after by collectors today.